Art and Liminal Space Resources
"Happiness is not found, it is created. Happiness does not depend on all that we lack, but on the way in which we use all that we have." -Arnaud Desjardins
Getting Started as a Liminal Artist
A series of 10 short videos that will help you get started as a liminal space artist. Creating in the "Right Now" has benefits that reach far into tomorrow.
Art, Liminality, and Intentional Self-Care
Art speaks through the expanse of time. From the beginning, through the middle, and then to the end of things, you can always find people using art to understand human experience. In birth, life, and death, we can find the human spirit speaking to us through what it creates. There is no experience too daunting for art to speak. There is no space too dark or time too long for creativity to find its voice.
Even as I sit and wait for "What's Next" I have a way to look at yesterday and reach for tomorrow. Creativity is my voice for where I have been, where I am, and where I am going. My canvas helps me understand it all and then it lets me speak. Creative expression is my liminal companion.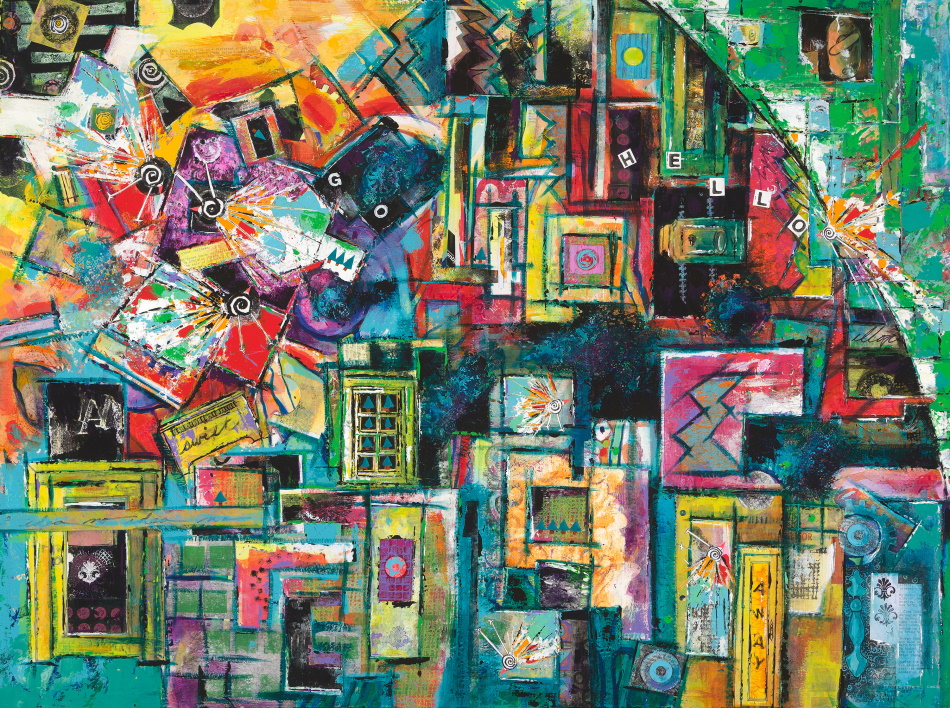 A Door, an Apple, a Bird, and a Flower, 2020
Art, Liminality, and Childhood
Liminality is not just a place. It is a state of mind. I can shift my state of mind and enter liminal spaces as I create. The more lost I get in it all, the more abstract my work becomes. I also become a little freer from the things that have held me: freer from certain objects, freer from places in time I'd been previously less likely to leave, and freer from the memories tied to yesterday.
This painting may not look like it has anything to do with childhood, but when I break it down, it does. The orange swirly shape has the texture and color of a baby teething toy that was attached to my crib. I still recall what it felt like in my mouth and what it felt like to exist as a two year old. The bright pink square is like the taffy candy I used to buy at the Hilltop Deli. I can remember the taste, the stickiness, and being ten years old. I look in from outside myself as I work and capture bits and pieces of moments past: often without realizing how any of it means anything. Suddenly, the objects no longer matter as much to me: only this significance matters. The deeper I go into the creative realm, the more abstract my work becomes, and the less attached to things I find myself. I stay cemented in time and space while getting pulled even more deeply and very much further away. I have gone nowhere and everywhere at the same time. Creative expression makes space for this unique state of existing.
We all carry our past with us, and we all move towards and away from it as we walk in the present. Something that happens right now can throttle us back to the age of four in an instant. We keep moving to and from what we know of yesterday unwittingly. Art helps us as we enter and exit these liminal portals. A song from childhood helps us recall the face of a beloved grandparent. In a few moments of reflection, grief is eased, and our deep affection for those we have lost is heightened. The illustrations in a favorite childhood fairy tale remind us of our father's lap and the sound of his voice. We close our eyes and sit in that lap for a time, and finally we are grateful despite all that we have lost. The feel of a crayon on a piece of paper brings us back to kindergarten. We re-experience its waxiness on our chubby fingers. We recollect peeling off the paper wrapper and blunting the crayon's tip as the tool was rubbed back and forth on coloring pages. The peace we had when we colored as a child is suddenly ours in present time— regardless of how hard this present time happens to be.
What if we picked up a crayon and colored for a little while? Maybe we'd spend a little time in the stillness of a moment faintly familiar and discover that it has crossed us over into childhood, back to today, and into a new moment where we find ourselves remade. Wondrous are the ways art can guide us through our liminal places and spaces.
Art, Liminality, and the Past
This is an old painting that was once capturing yesterday. I wanted it to capture today, so I reworked it. I didn't succeed in getting my canvas to capture "Today." Instead, it's all about being "stuck in the middle." I am (by choice) "stuck in the middle." This is where I want to be and where I choose to be. I teeter on worshiping this "middle space." I'm not sure I care to ever stop.
I look at my art and I see a strange opportunity. I can reach through time and space without making a sound or anyone ever knowing I've been there. It's a two-dimensional plane that offers me length, breadth, and depth. There are layers of space on my 2D canvases. You can reach back deep and see things that are tucked behind and hidden in surprising places. There are little doors that it seems you just might be able to open. It all suggests that there is someplace to go here. Even though these are all places in the past, I can go there in the present. I hang out in between many places in space. My art is my time machine.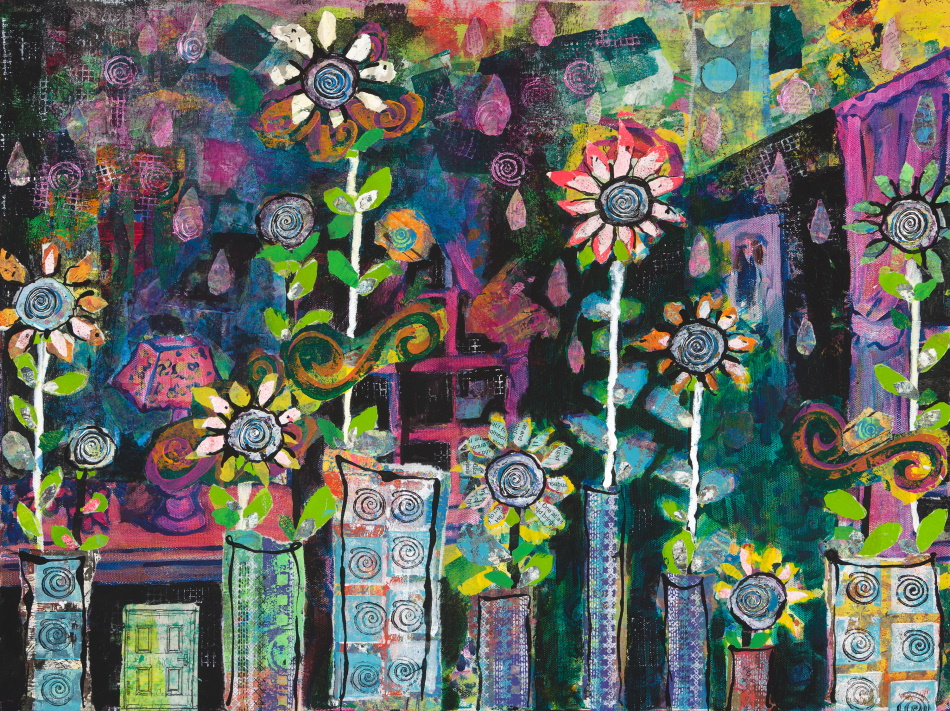 Art, Liminality, and Old and New Spaces
My work is mostly abstract. Amazingly and unwittingly, my work sometimes describes the nature of time—how it can be captured, stopped, or moved. I paint a door, and it's leading somewhere new. I only show what's on one side, so time waits for the door to open. In my next painting, time may shift as I show what's on the other side of that strange door. As you look at this canvas, do you feel like you are floating? Do you sense the slight angst and the strange quality of light? Are you looking in from the outside while having the hunch that time is not static but instead easily shaped and molded? I have painted the spaces I have walked: the spaces in-between my old and my new. Do you see how art helps me define my liminal "In-Betweens" when words fail? Art has always been there to help me. When I make my next move, my art will still be there—in all my places and spaces and right smack in the middle of all their in-betweens.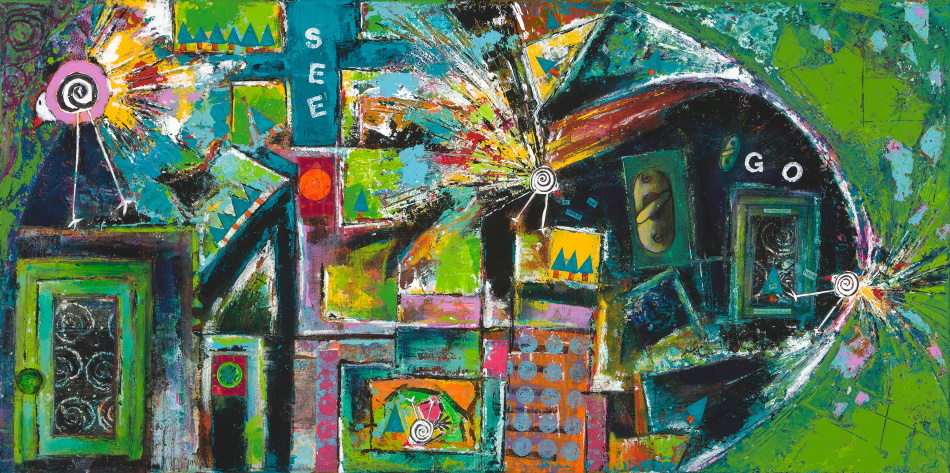 Franciscan Spirit, Lent with Richard Rohr, 2019
Liminal Space Reflections
Learn about the hope in life's long seasons of waiting.
A "liminal space" is the crucial in-between time—when everything actually happens and yet nothing appears to be happening. It is the waiting period when the cake bakes, the movement is made, the transformation takes place. (Rohr, 2019)
Learning More About Liminal Space

Liminal Space: Finding Life Between the Chapters
This website shares the belief that "all major life transitions need a guide." The site offers liminal guides who might "change the way people embrace life's most turbulent and formative transitions so that they can lead more creative and courageous lives."
Comfort as You Wait in a Liminal Space

Living Compass, Understanding Liminal Space, 2018
A place to "Honor the space between no longer and not yet."
There are two essential things that all people need when they find themselves in a liminal space: unconditional love and a supportive community. These two factors make all the difference in the midst of this vulnerable, "crazy" time. (Stoner, 2018)
Learning to Live Liminally
Benefits of Liminal Space
Found on Brighton Blog, Mary Brack, 2013
Read this blog for thoughts on Waiting in Liminal Space.
"Transformation is not easy. It stretches us out of our comfort zones. And it seems that our human nature is to be comfortable, thus it becomes a battle to keep ourselves open to God's transforming presence. Every fiber of our being fights to stay comfortable, but our soul, our spirit, yearns to be transformed into all that God calls us to be. For me, once again, I see the great benefits of staying dedicated to practicing spiritual disciplines in order to stay connected to God and hear His voice." (Brack, 2013)