"The question is not what you look at, but what you see." Henry Thoreau
My Liminal Journey: An Altered Book
I painted through my journey. I have included Yesterday, Right Now, and Tomorrow all at once. This piece spins and the flaps and doors open and close. This lets the viewer move through space, time, and place. Working in 3D creates an awareness of time shifting and changing: a liminal experience. Working in 3D also allowed me to uncover themes in my story. We can step outside the box and share our story in new ways. "My Journey: An Altered Book" is a 3D journal. It's my whole story told within one sculptural work. This is one of my unique forms of creative expression.
About Art, Liminality, and Alisa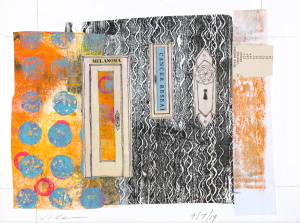 Alisa Clark believes in the power of creative expression—its power to help us find hope as we wait in life's most challenging places and spaces. Alisa received a B.F.A. from Pratt Institute, and she has an M.S. in education. While her formal training has helped her understand her painting process better, it did not begin her process. Alisa began finding a peaceful "flow" while creating when she could first pick up a crayon. As time passed, Alisa did what came naturally for many engaged in the artistic process: she created her way through making sense of the past, sitting in life's "In-Betweens," and entering new places on the other side of much waiting. While considering all of these transitional spaces, Alisa noticed that much of her art was made while sitting in the liminal "In-Between."
Alisa now looks back on a lifetime of art making, and she sees creativity's gift of "flow" during the countless times of sitting and waiting for time to do its work within her. She sees that her creative process was with her whether the hands of time moved too fast or too slow. She also notices that in the most challenging times—the moments when time seemed not to move at all—her creative process was her great companion.
Creative Expression's Power
Alisa understands that everyone must wait in life's liminal spaces. She sees that there is no way to circumvent the "In-Betweens" that often hold us in one place for what seems like far, far too long. However, she hopes that www.LiminalSpaceArt.com will show creative expression's power to make time a little bit kinder to us. In every liminal space, Alisa hopes creative expression will be the voice that gives us hope no matter how hard our present place in time and space may seem.
Everyone must wait in life's liminal spaces.